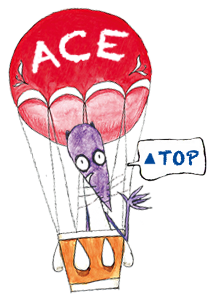 [Character]


"Tac" The raccoon dog from Japan
An earnest and polite young fellow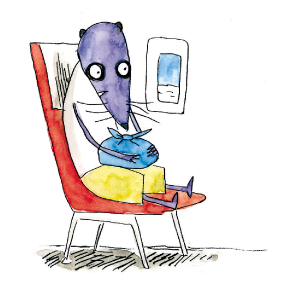 Tac graduated from a college in Tokyo with a degree in communication studies and worked for a temporary employment agency for two years before he quit because he could not find the job interesting. At age 26, he is now working part time at a welfare non-profit organization, still looking for what he really should be doing.Tac is an earnest guy who carefully deals with each scene of his professional as well as private life. So, people have come to trust him and consult with him about various issues, which he sometimes finds mentally tiring as he responds to other people's feelings rather sensitively. But he always deals with them and their problems as sincerely as he can.He lives with his elder brother, but he is eager to find a full-time job that would enable him to live by himself. Being indoor-oriented and shy with girls, his hobby is playing cat's cradle and knitting, and participates in a weekly all-male knitting gathering at a coffee shop in the neighborhood. He is so kind, giving the gloves and such that he knits to old people whom he is responsible to take care of.



---
"Mamma Elle" The elephant from Kenya
A broad-minded big mama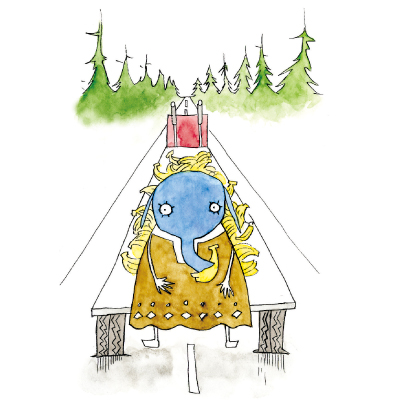 Mamma Elle is a 48-year old big elephant mother living happily together with her large family—including six children and fifteen grandchildren—on a Kenyan savannah. Broad-minded and not concerned with details, she talks like she sings and always thinks positively. While her large and close family is rather poor, she is at its center full of laughs and loved and respected by the family members and friends who all treat her as a maternal leader of the clan and consult her over their concerns. What Mamma Elle enjoys is her "daily life," and she likes phrases such as "slow life" and "Que será será." Although she has her own sad past as both her grandfather and husband were killed by poachers, she always remains cheerful and joyful. She also plays an important role in calming down everybody when the conference members get into a heated argument. Not necessarily knowledgeable when it comes to environmental issues, her intuitive statements are powerful.



---
"Jean" The rooster from France
A vain journalist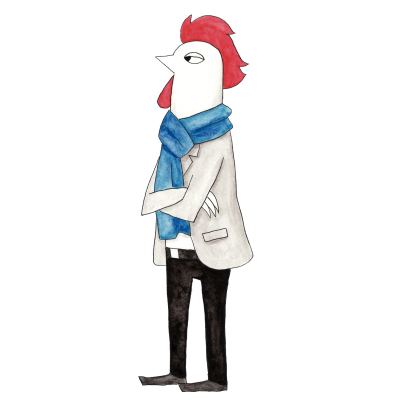 Jean is a 43-year old rooster. He was born in Nice, and is now working for a small publishing firm in Paris. But he is also an avant-garde poet famous in the world of poetry. Every morning, he starts the day at a cafe near his office reading five newspapers and chatting with the regulars there, which is for him a kind of mental warm-up. He lives with Beniles, with whom he has entered into a civil union, and her son Jean (the same name as our Jean). Because of the boy who loves Japanese comic books and games, Jean has also started to enjoy manga. They seem to make a close and happy family, except there is one problem... Jean is a gourmet cook who cleans rabbits and fish himself, but recently Beniles has been interested in a macrobiotic diet, which is a cause for frequent quarrels between them. Beniles criticizes Jean for his gourmet habit, which she claims is bad for her son who suffers from eczema, and their relationship has been deteriorating.Trying to deal with stress, Jean frequents a boutique these days. Like many Parisians, he has his own principles when it comes to fashion.



---
"Max" The eagle from USA
An innocent and simple-minded guy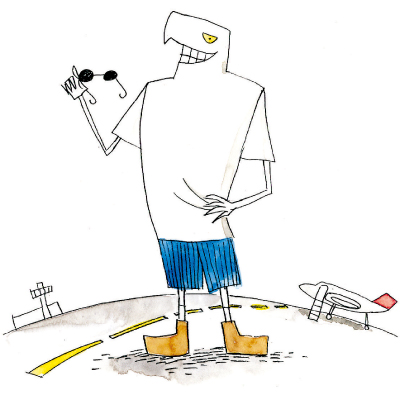 Max is an American eagle from Texas. His family runs a huge soy farm, where he has been helping since he graduated from high school. The second son with an elder and a younger brothers, he is now 32 years old, and he is into darts, cars, and inventing things. With his sturdy body and loud voice as well as a sociable personality, he is a popular figure in his town. Being smart, he is also good with his hands and can intuitively handle most things, which has made him rather confident but also cocky. Not knowing how to consider other's reactions, he always says what he wants to say without hesitation during the animal conference, which is frowned upon by other participants. Adoring big cars, he has never led an eco-friendly life himself. He buys used cars one after another and remodels them. He has also renovated a tool shed of the farm where he is involved in inventing various things useful for one's everyday life, which amuses his family and friends. He has tried to patent his inventions, but none have earned him any profit yet. He loves cranberry juice made from concentrate powder, bacon burgers, and California roll sushi. Recently, he is acting rough because he has just broken up with his high-school sweetheart.



---
"Bohdi" The tiger from India
A yogi practicing the simple life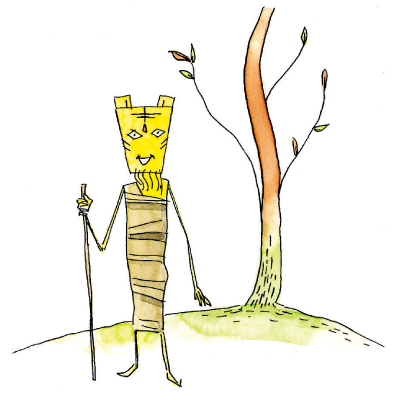 Bohdi is a 57-year old Indian tiger originally from Punjab and now living in seclusion. Because his father was killed by a poacher and his mother also died of a disease when he was a cub, he was raised by yogis in the mountain. But now living by himself separate from the yogis, Bohdi is all alone with no one to depend on. Thanks to his vegetarian diet and spiritual training that he has been practicing for many years, his mind is so clear and his body totally healthy. But he has finally decided to leave the mountain with a pot to make curry as his only possession as some of his yoga friends had been killed by tiger poachers and his own habitat came to be threatened as well. With his austere lifestyle of poor clothes and simple diet, his advices are often difficult to follow for urbanites who find him too much of a stoic. While his mental strength, made possible by his many years of yoga training, and composure makes Bohdi suited to act as an elder at the animal conference, his wild and unrealistic opinions often leave other participants aghast because he has been living in isolation from the real world for so many years.



---
"Dr. Rabbit" The rabbit from GreatBritain
A knowledgeable information geek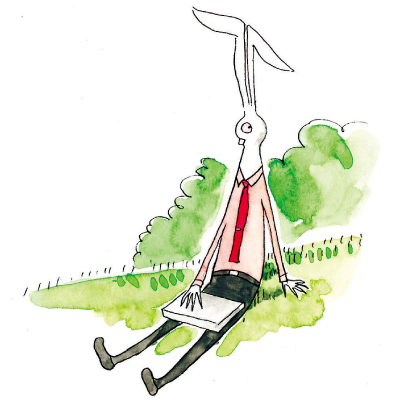 Dr. Rabbit, at age 36, has a doctoral degree in economics and works for a marketing firm in the City. After finishing graduate school, he worked for a few different companies in the financial world before finding his current job. His favorite phrase is "Knowledge is power" by Francis Bacon, and he is a bit of a nerd who is proud of his vast knowledge and data -analyzing prowess. He is always with his portable computer or iPad nowadays, at a dining table, in a bath, and even in bed. But he also has other, and a little more presentable, hobbies such as playing chess and gardening. He owns a cottage in the country that he visits, with cucumber and dill sandwiches every weekend. Tending flowering plants there really refreshes him. Dr. Rabbit also loves Japanese animation and collects anime-related figures, which he keeps secret from others. He hates quarrels and conflicts and wants to keep a certain distance from others preferring to remain cool. So, at the animal conference, he concentrates on his role as a data provider while making sure not to be involved in arguments himself.



---
"Jacare" The crocodile from Brazil
A hot-blooded guy who loves his native Amazon

Jacare is a hot-blooded alligator from the Amazon, who loves his native jungle more than anything. But his home in the Amazon having been destroyed by human slash-and-burn farming, he moved with his whole family into town in search of a job. At 42, he now works as a trolley bus driver and lives with his wife and three children. His wife works in a coffee plantation outside of the town, trying to help support the family. Jacare is the kind of guy who cannot ignore what goes against his strong sense of justice. Once he gets overexcited, he cannot control himself and bursts with emotions. He also has come to believe that his Amazonian home vanished because of the development projects by Japanese corporations, without checking the facts, and attacks poor Tac from Japan. He is an avid fan of football, as he is expected, and a nice dad who enjoys playing it with his kids on weekends. Also typical of a Brazilian, he drinks and dances samba all night during the annual carnival season.



---
"Harri" The hedgehog from Germany
An intelligent but a little argumentative fellow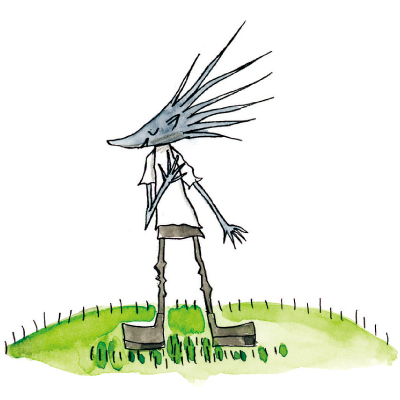 Harri is a 29-year-old young engineer who works for an optical instrument manufacturing company, and lives in an apartment owned by his parents in a district that used to be a part of West Berlin. He is a quiet person who thinks about things logically and efficiently. Loving nature more than anything, he is proud of Germany, which is known for its advanced eco-awareness, and leads his life in a modest and environment-friendly manner. The words he likes are "frugality" and "order."

His parents are both from Berlin and his paternal grandmother is Swedish. He is tall and thin but still concerned about his recently visible potbelly,which has made him start to swim. His hobbies include landscape photography, music, and going for a stroll. He is so into photography that he himself develops old-fashioned films. During the Easter and summer holidays, he is often found around Scandinavia taking photographs. As for music, he likes classical music, and he taught himself to play the cello. But, during his high-school days, he was a member of a punk rock group and played guitar. There are a number of lakes, small and large, outside of Berlin. Every weekend, he enjoys bicycling around those lakes, and he always brings a pot of herb tea and a cheese-on-rye sandwich with himself.



---
"Kiinu" The dog from Korea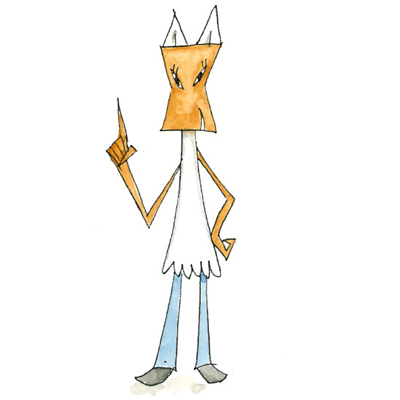 Kiinu is a college sophomore who majors in child psychology. She is a handsome woman with a strong sense of justice, and she is also good at taekwondo. She hopes to work for a NGO and help disadvantaged kids all over the world. Right now, she is concentrating on studying English and also works part-time at a hotel in order to save money as she wants to study abroad. While Kiinu always thinks and acts with a positive attitude, there is something that troubles her. That is her brother, who refuses to go to school and stays home everyday.



---
"Airsea" The seal from the Northern Seas
A warmhearted but lonely girl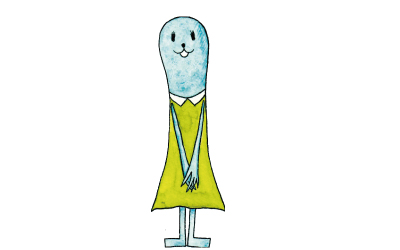 Having lost her family and friends because of the pollution of the ocean, she is a lonely girl who was rescued by Kiinu. Representing sea animals, she urges others to understand that national borders are irrelevant when it comes to the solution of environmental issues.



---
"Tanya" The bear from Russia
A narcissistic ex-opera singer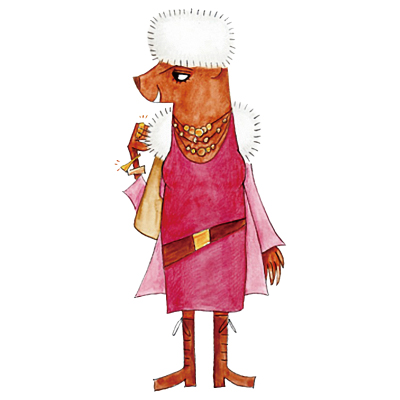 Tanya is a bear who owns an antique dealership in St. Petersburg. Her aesthetic judgment has been trained since her childhood by her frequent visits to museums and palaces. In her younger days, she also stood on the stage of the Mariinsky Theater as an opera singer, but after she quit singing, she has become involved in the art world, dealing with paintings and furniture pieces from the time of Russian czars. Hoping to share good Russian traditions and aesthetics to not only foreigners but also to young Russians, she regularly teaches art seminars as a volunteer. Always wearing gorgeous jewelry made of amber and gold, she can be an eccentric aesthete with her diva background, but she is also full of charismatic charms.



---
"Pao" The panda from China
A workaholic who respects tradition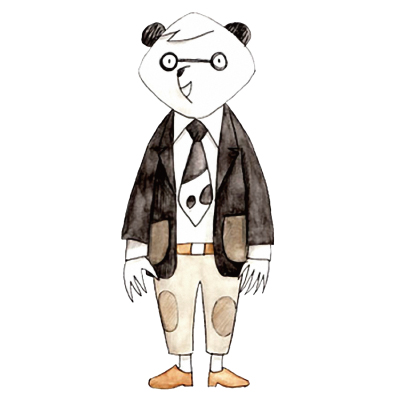 Pao is a hardworking giant panda who was born in Sichuan, China. He runs a rapidly growing energy concern company that he established himself 10 years ago. While working all day and night, he enjoys playing dominoes with his daughter Lanlan. He is also an expert at black-and-white painting as he was taught how to paint by his grandfather who was a painter. When he has some worries about his work, he has a conversation with himself having a paintbrush in his hand.



---
"Gutan" The orangutan from Indonesia
A laid-back forest ranger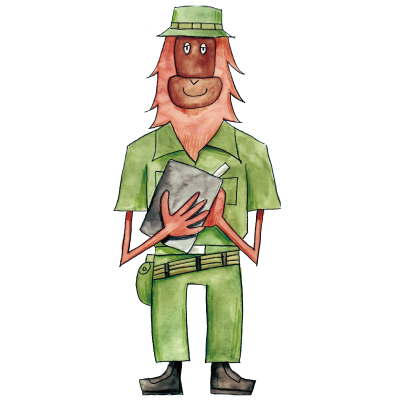 Gutan is an orangutan "man of forest" and spends most of his time on trees in tropical a forest. However, orangutans are facing a danger of extinction because as much as 80% of their habitat has been lost over last 20 years as forests are being destroyed in Indonesia. As he was concerned about the future of his kind since childhood, he became a bio-researcher and also works for forest preservation. Patrolling Borneo forests every day, he wears a forest ranger uniform and carries a pen and paper. When he is not working, however, he changes into native Indonesian batik clothes and enjoys fishing, which is the best form of relaxation for him. Being naturally relaxed and mature, various animals of the forest consult Gutan about all different kinds of things.



---
"Eva" The beaver from Canada
An eccentric artist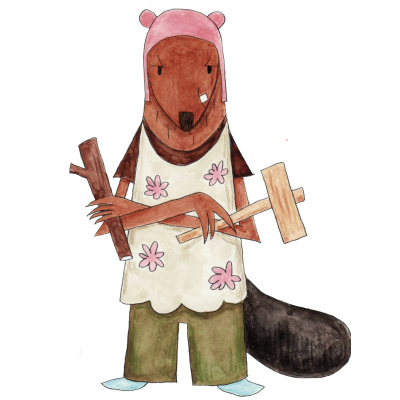 Eva is a Canadian beaver with an instinct for building a dam and creating a home inside, and has evolved into an installation artist with natural talents. The ponds created by Eva's dams have benefitted many kinds of animals, including the water birds who live there. After a few decades, these ponds will have been covered by water plants as they grow on accumulated rich soil at the bottom, which will in turn attract herbivorous animals. Eva's dams are a kind of installation art that takes form and evolves spanning vast space and long time. This makes her a pioneer of eco-stallation, which is a new form of environmental art.



---
"Pino" The mole from Italy
An olive grower with many good friends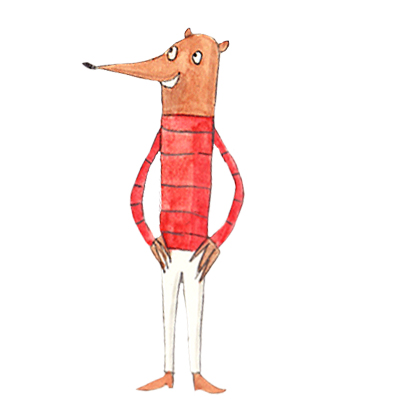 Pino is a mole who is helping his father at his family olive farm outside of Naples. His family has been producing olives over generations and they are famous among olive connoisseurs. Many foreign buyers are also interested in them, but his father has no intention of expanding his business as he is happy taking good care of the farm together with his family and producing great olives that please the local people. Besides, he feels that he's already too busy. As a native Napoletano, Pino is full of joy, and has many male and female friends both young and old. He is also a guy of many talents and hobbies as he cooks, sings canzone, and enjoys making pottery. But what he finds important in life is to eat, drink, and talk with his friends. And, of course, what he cherishes more than anything is the time he spends with his wife, who is also his childhood sweetheart, and their son who is now 5 years old.



---
"Igu&Gala" The iguanas from the Galapagos Islands
Inventor twins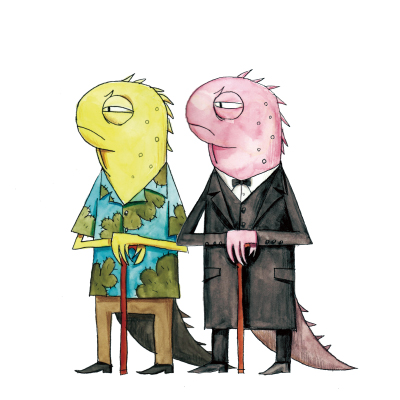 Igu and Gala are land iguana brothers from the Galapagos Islands. The elder brother Igu has just received an Ig Nobel Prize in communication, while the younger Gala is working for a cactus processingcompany. Igu feels that there is a special affinity between reptiles and cacti, who can survive in a severe environment, and after studying cacti for years, he has become able to have conversations with them. And through fine communication with them, he has finally managed to invent a cactus extract for longevity. It is Gala who succeeded in manufacturing this extract at his food processing factory, and the product is now getting people's attention from all over the world. Igu on the other hand is still devoted to his study of cacti all day and night.



---
"Loopo&Joey"
The kangaroos from Australia
A novice mother who is into social networking, and her baby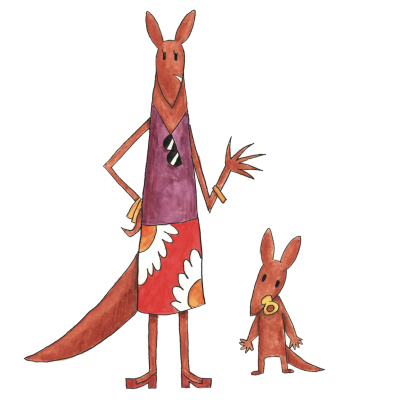 Loopo is a red kangaroo mom in the midst of raising her 5-month-old son Joey. While always keeping her eyes on her baby, she also won't neglect her appearance. She was working for a metal export company in Sydney, but came back to her hometown when she learned about the pregnancy. In Australia, where ozone depletion has caused serious problems, she would not go outside without a baby carriage equipped with a sunshade that cuts off 99% of UV rays as well as a pair of sunglasses, a hat with large brim, and sunscreen for herself. With her "mom' friends all over the world, she discusses the ecology for kids over social networking sites everyday. Here goes Loopo, decked out in her sundress perfectly coordinated with the baby carriage!



---
"Timo" The marmot from Austria
A nature-loving mountain master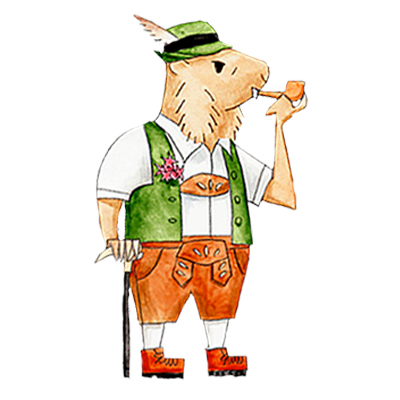 Timo is an Austrian marmot from the State of Tyrol. He loves the Tyrolean landscape, with the grand views of the Alps, and runs a famous mountain lodge that's been owned by his family from the time of his great grandfather. Preserving the simple way of life that's been kept over generations and knowing all of the birds, small insects, trees and flowers of the region, he is a "master of the mountain" whom everyone respects and consults. Timo is leading an almost perfectly self-sufficient life, and his house is heated by a biomass heating system that uses waste from the local lumbering industry. Of course, he stores rain water and tries to take out the least amount of garbage. Such an ecological lifestyle is something people started to appreciate just recently, but for Timo, it's a natural way of living since his childhood. For him, the most important thing is to "feel at home," and his current lifestyle is a result of his pursuit of that feeling for both himself and his environment. His lodge is at capacity with only twenty guests, but it's always busy with visitors from all over the world who want to learn from his way of life.



---
"Lambsy" The lamb from Turkey
A boy full of future dreams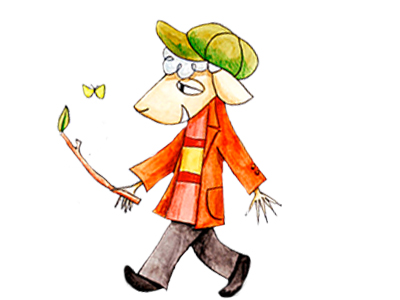 The ruins of the Artemis temple of Efesos, one of the seven wonders of the ancient world, has been a playing field for Lambsy since his childhood. He was raised by his grandfather and loves him dearly. His grandfather owns a kilim atelier and keeps studying natural dyeing methods to create splendid colors, hoping to let more people learn the beauty of traditional Turkish kilim. Growing up with his grandfather as a role model, Lambsy now wishes to work as an apprentice in the atelier after he graduates from school. But he is still 14 years old, curious and playful. Everyday, he hangs around the temple site looking for some treasures. He also earns pocket money by working as a tourist guide and sometimes brings guests to his grandfather's atelier.



---
"Wander"
The polar bear from the North Pole
A nomadic furniture-builder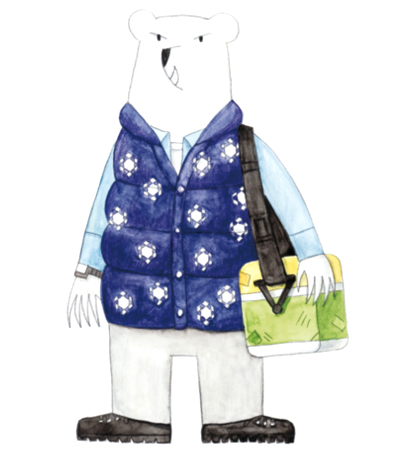 ---
"Haidala" The stateless
An enigmatic presence shrouded in mystery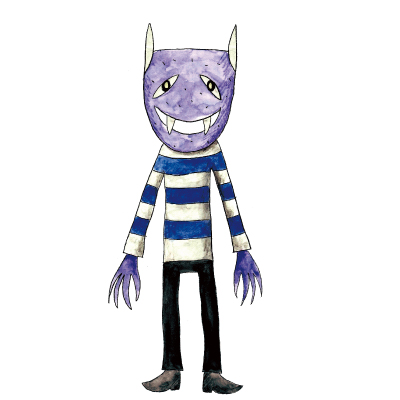 Hyaedara is a hyena full of enigma. No one knows about his nationality, profession, age, and family. It is also unknown what he is thinking and what his principles and opinions are. While he does not talk about himself at all and expresses absolutely no emotion, he observes other animals around him with his chilly sunken eyes, putting on that cynical smile of his.